Privacy, Security, and Terms & Conditions
Fraud Alerts and Identity Theft Information

Corporate Account Takeover (CATO) 

Credit Reporting Agencies

Mobile APP Privacy Policy Notice
Privacy Policy
Federal Law requires us to tell you how we collect, share, and protect your personal information. Our privacy policy has not changed, and you may review our policy here, or we will mail you a free copy upon request if you call us at 888-324-3191.
Rev. 05/2023
| | |
| --- | --- |
| | What Does Greenfield Savings Bank Do With Your Personal Information? |
Why?
Financial companies choose how they share your personal information. Federal law gives consumers the right to limit some but not all sharing. Federal law also requires us to tell you how we collect, share, and protect your personal information. Please read this notice carefully to understand what we do.
What?
The types of personal information we collect and share depend on the product or service you have with us. This information can include:


Social Security number and Account Balances
Your credit scores, credit history, and payment history
Income, assets, and checking account information

How?
All financial companies need to share customers' personal information to run their everyday business. In the section below, we list the reasons financial companies can share their customers' personal information; the reasons Greenfield Savings Bank (GSB)
chooses to share; and whether you can limit this sharing.

Reasons We Can Share Your Personal Information
Does Greenfield Savings Bank Share?
Can You Limit This Sharing?
For our everyday business purposes –
such as to process your transactions, maintain your account(s), respond to court orders and legal investigations, or report to credit bureaus

Yes
No
For our marketing purposes –
to offer our products and services to you
Yes
No
For joint marketing with other financial companies
Yes
No
For our affiliates' everyday business purposes –
information about your transactions and experiences
No
We don't share
For our affiliates' everyday business purposes –
information about your creditworthiness
No
We don't share
For nonaffiliates to market to you
Yes
Yes
Mail-in Form
If you have a joint account, your choice will apply to everyone on your account unless you mark below.
Apply my choice only to me.
Mark if you want to limit:
Do not share my personal information with nonaffiliates to market their products to me.
| | |
| --- | --- |
| Name | |
| Address | |
| City, State, Zip | |
| Account #(s) | |
Mail To:
Greenfield Savings Bank
Attn: Deposit Operations
PO Box 1537
Greenfield, MA 01302-1537
To limit our sharing

Please note:

If you are a new customer, we can begin sharing your information 30 days from the date we sent this notice. When you are no longer our customer, we continue to share your information as described in this notice.




However, you can contact us at any time to limit our sharing.

Questions?
Call 888-324-3191 or go to www.greenfieldsavings.com
Who We Are

Who is providing this notice?
Greenfield Savings Bank
What We Do
How does Greenfield Savings Bank protect my information?
To protect your personal information from unauthorized access and use, we use security measures that comply with federal law. These measures include computer safeguards and secured files and buildings.
We also maintain other contractual, physical, electronic and procedural safeguards and we limit access to employees having a need to know.
How does Greenfield Savings Bank collect my personal information?
We collect your personal information, for example, when you

Open an account or deposit money
Pay your bills or apply for a loan
Use your debit card

Why can't I limit all sharing?
Federal law gives you the right to limit only

sharing for affiliates' everyday business purposes – information about your creditworthiness
affiliates from using your information to market to you
sharing for non-affiliates to market to you

State laws and individual companies may give you additional rights to limit sharing. Please see "Other Important information" below. 

What happens when I limit sharing for an account I hold jointly with someone else?


Your choices will apply to everyone on your account — unless you tell us otherwise
Definitions
Affiliates

Companies related by common ownership or control. They can be financial and nonfinancial companies.

Greenfield Savings Bank has no affiliates.

Non‑Affiliates

Companies not related by common ownership or control. They can be financial and non-financial companies.

Greenfield Savings Bank may share with nonaffiliates to market to you unless you opt out. Nonaffiliates we share with can include companies that we contract with to offer rewards programs related to our accounts.

Joint Marketing

A formal agreement between nonaffiliated financial companies that together market financial products or services to you. 

Our joint marketing partner includes the broker dealer with whom we offer investment products.
Other Important Information
For Massachusetts customers, we will not share information from deposits or share relationships with non-affiliates either for them to market to you or for joint marketing without your permission.
Security
We believe you deserve to work with a bank you can trust; that's why protecting your personal and financial information is a priority for us. We've got your back.

No one needs more junk mail or yet another unwanted message in the email inbox. While other businesses might, GSB won't sell your personal information for our financial gain. You can check our Privacy Policy for more information.

Stay safe, friends.

From providing identity theft protection tips to alerting our community about the latest scams hitting the Valley, we'll give you the tools and information you need to keep your money and your identity safe.

Website Terms & Conditions
PLEASE READ THESE TERMS OF USE CAREFULLY. BY ACCESSING THIS WEBSITE OR USING THE SERVICES, YOU AGREE TO BE BOUND BY THESE TERMS OF USE. IF YOU DO NOT AGREE WITH THESE TERMS OF USE, PLEASE DO NOT ACCESS THIS WEBSITE.
This website has been established by the bank for the sole purpose of conveying information about the bank's products and services and to allow communication between the bank and its customers. Information that appears on this website should be considered an advertisement. Nothing contained in any page on this site takes the place of the bank's agreements and disclosures that govern its products and services. If any information on the site conflicts with any Bank agreements and disclosures, the agreements and disclosures will control.

Links to Third Party Sites
From time to time the bank may place links to other websites on this page. The bank has no control over any other website and is not responsible for the content on any site other than this one. Users assume all responsibility when they go to other sites via these links.
Copyrights and Other Intellectual Property
Except where otherwise expressly noted, all contents of this website, including the graphics, icons and overall appearance of the website, are the sole and exclusive property of Greenfield Savings Bank, Greenfield, Massachusetts and/or its subsidiaries or affiliates. The posting of the contents of this website neither constitutes a waiver of any of Greenfield Savings Bank's proprietary rights or any other party's proprietary rights, including but not limited to, copyrights, trademarks, service marks, patents, and other intellectual property, nor a transfer by implication, estoppel, or otherwise of any such rights or of any license to the website user or to any third party. Contents of this website are protected by United States and international copyright laws, both as individual works and as a collection and by United States and international trademark laws. You agree not to delete any copyright, trademark or similar notice from any contents you obtain from the website.
No Warranties
The bank makes no warranties of any kind regarding the products and services advertised on this site. The bank will use reasonable efforts to ensure that all information displayed is accurate; however, the bank expressly disclaims any representation and warranty, expressed and implied, including, without limitation, warranties of merchantability, fitness for a particular purpose, suitability, and the ability to use the site without contracting a computer virus. The bank is not responsible for any loss, damage, expense, or penalty (either in tort, contract, or otherwise), including direct, indirect, consequential, and incidental damages, that result from the access of or use of this site. This limitation includes, but is not limited to the omission of information, the failure of equipment, the delay or inability to receive or transmit information, the delay or inability to print information, the transmission of any computer virus, or the transmission of any other malicious or disabling code or procedure. This limitation applies even if the bank has been informed of the possibility of such loss or damage.
No Unlawful or Prohibited Use
The website, or any information contained on the website, shall not be used for any purpose that is unlawful or prohibited by these . The website shall not be accessed, nor materials or services available on the website be used, from territories where such access or use is illegal. The information and materials contained in this website are owned by the bank or by others, as applicable, and are protected by copyright and trademark laws. No material may be copied, displayed, transmitted, distributed, framed, sold, stored for use, downloaded, or otherwise reproduced without prior written consent of the bank, except as permitted by law.
Changes to our Terms of Use
Please note that we will periodically make changes to our Terms of Use. It is your responsibility to review this Terms of Use frequently and remain informed about any changes to it, so we encourage you to visit this page often. Your continued use of our site constitutes your acceptance of any amendments to and the most recent versions of this Terms of Use.
Governing Law
This agreement and the use of this website are governed by the laws of the State of Massachusetts.
Minimum Age Requirement
This website is intended for use by persons who are at least 18 years old, or the legal age required to form a binding contract in your jurisdiction if that age is greater than 18. By using this website, you represent and warrant that you are at least 18 years old and of legal age to form a binding contract. If you are under 18, you may use the website only with the permission and involvement of a parent or legal guardian.
Personal information on Children
We respect the privacy of your children and encourage all parents to supervise their children's computer usage. We do not knowingly collect or retain personal information from children under the age of thirteen. We advise all visitors to our site under the age of thirteen not to disclose or provide any personally identifiable information on our site. To learn more about the Children's Online Privacy Protection Act (COPPA), please visit the Federal Trade Commission's website here:
https://www.ftc.gov/legal-library/browse/rules/childrens-online-privacy-protection-rule-coppa
Cookie Policy:
Greenfield Savings Bank will collect, retain, and use information about our customers only when the bank believes it will help administer our business or provide products, services and other opportunities to customers. We do not collect any personal information from you on this website unless you voluntarily provide such information to us. However, we may collect non-personal information such as your IP address and other anonymous information that does not identify any one person. Such non-personal information may be collected by us through "cookies." A cookie is a small file that a website or its provider can place on your computer, mobile device, or tablet to collect and store information about your online activities.  By using Greenfield Savings Bank's website, you are accepting our use of cookies.
Cookies allow Greenfield Savings Bank to deliver online Chat, personalized user preferences and targeted promotional messages. Cookies help us better understand your interests and your experience on our website.  Greenfield Savings Bank or its website developers may contract with Google Analytics and other third-party providers to assist us in analyzing the trends and activities of our site visitors.  For more information on Google's practices, you may visit their site at www.google.com/policies/privacy/partners
If you would like to opt-out from Google Analytics, you can download the Google Analytics opt-out browser add-on available at https://tools.google.com/dlpage/gaoptout
If you have any questions or complaints about these Terms and Conditions, please contact the Bank by email at: customerservicecenter@greenfieldsavings.com
or by mail at:
Greenfield Savings Bank
400 Main Street
P.O. Box 1537
Greenfield, MA 01302
Fraud Alerts & Identity Theft Information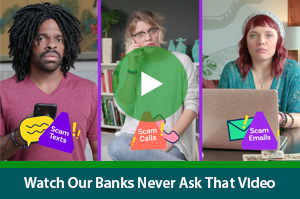 Ongoing Imposter Scam Alert: 5/24/23
We have had reports of a very sophisticated IMPOSTER SCAM targeting our customers.
Posing as Greenfield Savings Bank representatives, fraudsters may send you an email or text your mobile phone number that appears to come from the Bank reporting fraudulent activity on your account. They will try to convince you to provide your bank account and/or debit card numbers, passwords and/or security answers to take over your account and initiate fraudulent transactions. Please note: the Caller ID from the scammer may even appear to be from the Bank.
Greenfield Savings Bank will never call you or text you for personal and security information.
If you receive any calls or texts that you suspect are a scam or suspect that you may be a victim of fraud, please call the bank at 888-324-3191.
We are committed to helping protect our customers' personal and account information. If you see a transaction that you do not recognize, it is very important to alert us immediately so that we may assist you in stopping any unauthorized transactions.
As a reminder, if you are ever unsure of the legitimacy of a phone number, please hang up and call back at the phone number listed on our website
www.greenfieldsavings.com
.
---
Cyber-scam Alert from the FBI
The FBI has issued an alert about a new and very sophisticated Cyber-scam targeting bank customer's using digital payment apps.
The scam starts with text message (which looks like it is from the targets bank) reporting a possible bank fraud and asking you to reply YES or NO to verify a recent instant payment. If the target replies NO, then a message will tell them that they will receive a call from a fraud specialist.
The victim will then receive a call that appears to be from the victim's Banks toll-free number and the scammer will then walk the victim though a process to reverse the "fraudulent charge." In actuality, the scammer has just fooled the victim in transferring money to the scammer.
What you can do to protect yourself from this type of scam:
1. Always be wary of unsolicited request for account information.
2. If you receive a text or email reporting a possible fraud, contact the financial institution directly.
3. A financial institution will never ask you to transfer funds between accounts to prevent fraud.
4. Be skeptical of callers that provide your personal information, including social security numbers as proof of their legitimacy.
Please click this link for the full text of the FBI's Fraud Alert. https://www.ic3.gov/Media/Y2022/PSA220414
Fraud Alert: Online Banking Scam
The Massachusetts Banker's Association (MBA) has issued a Fraud Alert about new fraud schemes utilizing sophisticated "vishing" tactics to compromise consumer accounts.
"Vishing" is defined as the fraudulent practice of making phone calls or leaving voice messages purporting to be from reputable companies to induce individuals to reveal personal information, such as bank details and credit card numbers.
According to the MBA, bank customers are being targeted with spam phone calls with their bank's name and/or main phone number, typically in the evening (after office hours). The fraudsters are then using social engineering tactics to ease the customer's concerns by stating that they are calling "to help mitigate potential fraud" and request that the customer provide online banking credentials including the username, password and multi-factor authentication codes received by text. Unfortunately, fraudsters can sound legitimate and sincere.

Once the fraudster gains entry to a customer's online banking, they can siphon out cash by initiating peer-to-peer (P2P) payments (most typically using Zelle), intra-bank transfers, EFTs and even – in some cases – wire transfers. Fraudsters sometimes initiate debit card transactions first.
Most fraudulent card transactions have originated from Texas with purchases at retailers such as Kroger and Walgreens.
Fraudsters know that real-time fraud prevention systems will initiate automated phone calls to the bank consumers to verify these flagged transactions and they preempt the automated calls by first calling the bank customers themselves and advising them to respond favorably to the subsequent automated phone calls by marking them as "no fraud".
No one from Greenfield Savings Bank will ever ask you for your full account number, your debit card number, your log in credentials (username or password), or your social security number.  NEVER give this information to a caller, even if they proport to be from our Bank. Spammers can make their caller ID phone number look like the Bank's.
What you should do?
If you have received any such calls or solicitations, hang up and contact Greenfield Savings Bank. If you receive a voice mail of this kind, do not return the call. Call the Greenfield Savings Bank directly at:
We recommend that you set up ALERTs on your GSB account so you can be on the look out for any unusual attempts on the authorized transactions to fraud your account.
Flood Cars
Avoid Home Improvement Scams
The Northwestern District Attorney's Consumer Protection Unit has put together some great tips to help you avoid home improvement scams:
If you're going to hire a Home Improvement Contractor:
Make sure they're registered or licensed with the state by calling 888-283-3757 or checking at www.mass.gov/consumer
Make sure the payment schedule is broken into 3 payments: 1/3rd at the start of the project, 1/3rd in the middle and 1/3rd when the work is complete;
Make sure the contractor takes out the building permit in their name;
Make sure you check the contractor's references;
Make sure you have a written contract;
Make sure you have a copy of the contractor's insurance;
Make sure you check to be sure there are no complaints against the contractor.
---
Scam Alert
---
U.S. Marshals warn the public of spoofing, by scammers
The U.S. Marshals and the FBI are alerting the public of several nationwide imposter scams involving individuals claiming to be U.S. marshals, court officers, or other law enforcement officials. They are urging people to report the calls their 
Local FBI office
 and file a consumer complaint with the 
Federal Trade Commission
, which has the ability to detect patterns of fraud from the information collected and share that data with law enforcement.
During these calls, scammers attempt to collect a fine in lieu of arrest due to a claim of identity theft, failing to report for jury duty, or other offenses. They then tell victims they can avoid arrest by withdrawing cash and transferring it to the government, purchasing a prepaid debit card such as a Green Dot card or gift card and read the card number over the phone to satisfy the fine, or by depositing cash into bitcoin ATMs.
Scammers use many tactics to sound and appear credible. They sometimes provide information like badge numbers, names of actual law enforcement officials and federal judges, and courthouse addresses. They may also spoof their phone numbers to appear on caller IDs as if they are calling from a government agency or the court.
If you believe you were a victim of such a scam, you are encouraged to report the incident to your 
local FBI office
 and to the 
FTC
.
Things to remember:
U.S. MARSHALS WILL NEVER ask for credit/debit card/gift card numbers, wire transfers, or bank routing numbers, or to make bitcoin deposits for any purpose.
NEVER divulge personal or financial information to unknown callers.
Report scam phone calls to your local FBI office and to the FTC.
You can remain anonymous when you report.
Authenticate the call by calling the clerk of the court's office of the U.S. District Court in your area and verify the court order given by the caller.
---
Identity Theft Information
Greenfield Savings Bank will never ask you to provide personal information in the form of an email. We urge you to report any such attempt to our Customer Service Center toll-free at (888) 324-3191. If you think you may have given information of this kind to someone claiming to be from Greenfield Savings Bank, please contact us immediately. If you are uncertain you are communicating with the Bank, do not respond, call us directly and we will assist you.
---
Money Wiring
Money wiring scams come in many variations. Scammers like to get paid using wire transfer services because it's fast, the money is often available within minutes, not leaving the consumer time to cancel the transaction once they realize it is a scam. The money is usually picked up in cash and in person making it hard to recover.
Remember:
Never wire money to claim a prize
Never wire money to someone you don't know
Watch out for these Money Wiring Scams:
Lottery & sweepstakes scams
Overpayment scams
Relationship scams
Mystery shopper scams
Online purchase scams
Apartment rental scams
Advance fee loan scams
Family emergency or friend-in-need scams
IRS scams
---
---
What You Need to Know About Internet "Phishing"
Today's environment has us often relying on email as a fast and effective means of communication. However, with such technology criminals are increasingly utilizing email in order to fraudulently obtain confidential information. At Greenfield Savings Bank, we take pride in our commitment to our customers, and we are therefore alerting you to be aware of these potentially dangerous schemes.

These fraudulent emails may appear to come from a Financial Institution and may attempt to trick you into disclosing personal information, such as account numbers, passwords or PIN's, social security numbers, and other personally identifiable information. These emails, and the web links that sometimes accompany them, are often very realistic and convincing.

Important security safeguards and simple precautions to remember:

Never give out your account number, ATM/Debit card number, PIN or other personally identifiable information if requested via an unsolicited email or phone call.
Never reveal your PIN to anyone, including Greenfield Savings Bank employees.
Be sure to log out after your online banking session, and close your browser.
When discarding banking receipts and credit card statements, it is a good idea to shred these documents, as they contain confidential information.
The Department of Justice advises e-mail users to "stop, look and call" if they receive a suspicious email.

Stop. Resist the urge to immediately respond to a suspicious e-mail—and to provide the information requested—despite urgent or exaggerated claims.

Look. Read the text of the e-mail several times and ask yourself why the information requested would really be needed.

Call. Telephone the organization identified, using a number that you know to be legitimate.

If You've Been "Phished"…
If you believe that you have provided sensitive financial information about yourself through a phishing scam, you should:
Immediately contact your financial institution.
Contact the three major credit bureaus and request that a fraud alert be placed on your credit report. The credit bureaus and phone numbers are:
File a complaint with the Federal Trade Commission by clicking here or by calling 1-877-382-4357.


Additional information is available at many sites, including those listed below:


Keeping Your Debit Card Secure
Protecting your accounts from fraud is our highest priority. That's why we have just added additional security measures aimed at stopping fraudulent activity from occurring on your Greenfield Savings Bank Debit Card.
Chip Card Security
All GSB Debit cards come with EMV chip security feature to help protect you from fraud. Your GSB Debit cards will work anywhere MasterCard® is accepted - at both the new chip-enabled and the traditional swipe-method terminals.

Traveling Notices
Planning to travel out of the area, such as out-of-state, out-of-the-country or just to Cape Cod? Contact our Customer Service Center or any branch representative and tell them your travel plans including the dates and places. We will put a Travel Notice on your GSB Debit Card to help prevent a Security Hold from occurring.
Automated Fraud Detection Calls and Text Messages
To protect your account, we monitor your ATM and debit card transactions for potentially fraudulent activity which may include things like:
A sudden change in locale (such as when a your GSB Debit Card is used unexpectedly out-of-state or overseas)
A sudden string of costly purchases
Other transaction patterns that are associated with fraudulent activity
If we suspect fraudulent activity, you will receive an automated call or text message to validate the legitimacy of your transaction(s). 
Our automated message will ask you to verify recent transaction activity on your card
You'll be able to respond via your touch tone keypad or return text message
You'll also be provided a toll-free number to call should you have additional questions
Your participation in responding to our call or text is critical to help identify and prevent potential fraud and to avoid restrictions we may place on the use of your card.
For your security, GSB Automated Fraud Detection calls, text messages, or GSB Customer Service agents will NEVER ask you to provide your full Social Security Number, your full card number, or your personal PIN number. If you do receive a call asking for any of this information, hang up immediately and notify Greenfield Savings Bank toll-free at (888) 324-3191.
To ensure we can continue to reach you whenever potential fraud is detected, please keep us informed of your correct phone number and address at all times. 
Protect Yourself
Please be diligent in monitoring transaction activity on your account and contact us immediately if you identify any suspicious or fraudulent transactions.

Additional tips to help protect your card include:
NEVER give out your PIN. It is private and should not be disclosed to anyone.
Unless absolutely required for a legitimate business purpose, avoid giving out your:

Address and ZIP code
Phone number
Date of birth
Social Security number
Card or account number
Card expiration date

In stores and at ATMs, always cover your card and PIN, and watch for:

Cell phone cameras, mirrors, or other tools used to view cards and PINs
People watching your transactions
Cashiers taking your card out of sight; take it to the register yourself
Any unusual activity at ATMs; if you feel uncomfortable, go to another ATM

Online, you should never respond to unsolicited emails that:

Ask you to verify your card or account number; such emails are not sent by legitimate businesses
Link to websites; such sites can look legitimate but may collect data or put spyware on your computer

Securely destroy documents that may contain personal, ID, and account information such as purchase/ATM receipts or utility bills.
Corporate Account Takeover (CATO) 
Corporate Account Takeover (CATO)
What is Corporate Account Takeover?
Corporate Identity Theft.
Simply put, corporate account takeover is the business equivalent of personal identity theft. Hackers, backed by professional criminal organizations, are targeting small and medium businesses to obtain access to their web banking credentials or remove control of their computers. These backers will then drain the deposit and credit lines of the compromised bank accounts, funneling the funds through mules that quickly redirect the monies overseas into backers' accounts. A computer can be compromised very easily by visiting an infected website or by simply opening an email. There has been a steady increase in account takeovers since 2009 resulting in billions of dollars of damage.
Security Best Practices
A Solid Foundation to Build Upon.
When it comes to protecting sensitive financial information from hackers, there's no substitute for good old-fashioned knowledge. As a business owner, you should have a level of understanding about how to
secure your computers that allows you to take proactive steps and avoid, or at least minimize most threats. Experts advise following best practices, including using a dedicated computer, keeping patches and anti-virus up to date, installing a host-based firewall, verifying all transactions before approving, and reviewing bank transactions daily. These best practices should be the minimum security baseline for every company's online banking transactions.

Steps for Better Security:
Use a dedicated computer for financial transactional activity. Do not use this computer for general web browsing and email.
Apply operating system and application updates regularly (patches).
Ensure that anti-virus/spyware software is installed, functional, and is updated with the most current version.
Have host-based firewall software installed on computers.
Use the latest version of internet browsers, such as Explorer, Firefox or Google Chrome and keep patch up to date.
Activate a "pop-up" blocker on internet browsers to prevent intrusions.
Turn off your computer when not in use.
Do not batch approve transactions; be sure to review and approve each one individually.
Review your credit report/banking transactions regularly.
Contact your information technology provider to determine the best way to safeguard the security of your computers and networks.
USA Patriot Act
Important Information about Procedures for Opening a New Account
To help the government fight the funding of terrorism and money laundering activities, Federal law requires all financial institutions to obtain, verify and record information that identifies each person who opens an account.

What this means for you:
When you open an account, we will ask for your name,
address, date of birth and other information that will allow us
to identify you.
We may also ask to see your driver's license or other
identifying documents.
USA PATRIOT Act HR 3162 Section 326
Credit Reporting Agencies
Credit Reporting Agencies
One of the most influential factors in obtaining a loan is your credit score. Building a good credit score and protecting it can help you qualify for the best rates whenever you apply for any type of credit.
Consumers can receive a free copy of your credit reports annually by contacting each of the credit reporting agencies listed below.
If you use GSB's Online Banking or Mobile Banking, you may also obtain your credit score and credit report for FREE, 
any time
, through
GSB CreditCenter
.
Fraud Prevention Tips: Part I
Verify the Authenticity of Any Solicitation
Before sharing account information or parting with funds, do a little research. If you ever question the source or discover that something feels "off", trust your gut and avoid sharing personal or account information.
If you are giving to charities or non-profit organizations, ensure that the organization is legitimate. For National charities, you can check the National 501(c)(3) registry to make sure they are a registered non-profit organization. If you choose to give locally, make sure the charity is real. Look for reviews online or ask questions about them.
It's ok to hang up. Have you had calls or emails seemingly from a bank, or even the IRS, asking for personal information? These are attempts to take your money, so just hang up! Don't worry about being perceived as rude, it's more important to protect your information.
Don't give your account information to anyone! Greenfield Savings Bank will not call and ask for your account number, your PIN, or other personal information. Remember, fraud is not your fault UNLESS you give your information away. Call your bank immediately if you believe this has happened.
The IRS will never call or email. If monies are owed, the IRS will always send a certified letter. They will never call or solicit payment by email.
Know who is really calling. If a caller is requesting personal or financial information and claims to be a representative of your bank or another business, do your due diligence before sharing any information. Hang up and call your bank back using a published number from a public directory, official company website, or a business card. This serves as confirmation that the request is from a legitimate caller, and will also allow you to report the incident if it turns out to be attempted fraud.
Be wary of electronic solicitations. If you receive an email asking you to reply with personal information, hit DELETE immediately, and then permanently delete the messages in your trash can or deleted emails folder. Clicking any links in the message could be an attempt to place malicious software on your device and get your personal information.
---
Fraud Prevention Tips: Part II
Protect Your Online Activities
Privacy is also your responsibility. In the world of corporate breaches, merchant hacks, and social engineering on social media sites, are your devices safe?
Guard against viruses and malware. Make sure you have updated virus protection on your computers, laptops, tablets, and smart phones (remember, phones are computers too).
Use social media carefully.

Customize your Social Media settings to be as private as possible.
Only "Friend" or "Like" those you actually know.
Post vacation pictures ONLY when you return home, and ask traveling companions to do the same.
Watch who is tagging you, and who you are tagging. If you tag or @mention a friend in a status update, for example, anyone who sees that update can click on your friend's name and view that person's profile too.
---
Fraud Prevention Tips: Part III

Contest Fraud: Legitimate Winnings Need No Deposit
Any contest, lottery, or winning notification that requires a deposit, pre-paid taxes, or any outlay of money upfront is a scam, plain and simple.
The method of delivery does not mean your "winnings" are legitimate. No matter how it's received, whether by phone, email, Fed Ex, Priority Mail, certified mail, etc., any request that asks you for money upfront is a scam.
Fraudsters look for payment methods that are difficult to trace or refund. Be wary of requests for monies to be sent via wire, Western Union® , MoneyGram® or by buying gift cards in order to claim lottery winnings, to gain a prize or to show "good faith" that a larger sum of money will be sent to you at a later date.
You cannot win if you did not enter. No matter how good the fraudster's cover story is, you cannot win a foreign lottery if you are not a resident of that country, nor can you win any contest or lottery that you did not enter. If you can't recall entering, it's likely a scam.
Err on the side of caution when depositing cashier's checks or money orders. If you get a cashier's check from someone you don't know and they tell you to deposit the check and send money back, don't be fooled!

Ask your bank to verify the funds with the originating bank before making the deposit.
Request a 5 day or longer hold on that check to be sure it has cleared.
Avoid spending the funds even if the bank makes the check available to you.
Otherwise, if the check comes back counterfeit or fraudulent, you will owe the bank those funds.
---
Fraud Prevention Tips: Part IV

Use Caution While Surfing the Web
Avoid using unsecured Wi-Fi or free "Hot Spots", even if they can help keep the data bill from your phone carrier down.
Hot Spots and unsecured Wi-Fi are easily penetrable by hackers, just sitting and waiting for someone to go shopping.
Everything you do on an unsecured network can be watched by a hacker. This includes seeing your credit or debit card information, knowing what items you purchased, and any login credentials you used including user name and password. This makes it easy for hackers to change your login credentials, do their own shopping (with your credit or debit card), or even change the delivery address of the item you just purchased.
Open a dedicated account if you use a debit card for online purchases. Then, transfer only the funds necessary to cover your online purchases. For extra security, make sure this dedicated account is not tied to any other account and does not allow overdraft services.
---
Fraud Prevention Tips: Part V

Travel Carefully
Taking a vacation?
Have an extra set of eyes on your property. If you go away no matter how short the trip, coordinate with family members or trusted friends to check on things while you are gone.
Avoid visible signs that you're away. Make sure mail, newspapers and delivered packages don't pile up. Make use of timers for lights to be turned on and off in your home at different times. Leave a radio or streaming audio device on while you are away, set to a station with a 24 hour talk show.
Save your social posts until you get home! It's natural to want to share your fun, but post vacation pictures ONLY when you return home, and ask traveling companions to do the same.
Avoid electronic pickpockets. Protect your debit and credit cards, passports, driver's license, and more in RFID-blocking wallets or pouches.
Mobile APP Privacy Policy Notice
Greenfield Savings Bank APP (the "App")-powered by Fiserv-helps you control your credit and/or debit cards through your mobile device, making it easy to manage your finances on the go.
The App allows you to:
Get real-time balances for your accounts.
Manage your money.
View your transactions and statements.
Make transfers.
Pay your bills and manage payees.
Deposit a check.
Receive alerts.
Manage cards.
This Privacy Policy, in combination with other relevant privacy notices that we provide- Example: pursuant to financial privacy laws-is to inform you of the policies and practices regarding the collection, use and disclosure of any personal information that we and our service providers collect from or about users in connection with the App's website, and mobile application (the "Services").
THE TYPES OF INFORMATION WE COLLECT IN THE APP
Through your use of the Services, we may collect personal information from you in the following ways:
(a) Personal Information You Provide to Us
We may collect personal information from you, such as your first and last name, address, email, telephone number, and social security number when you create an account.
We will collect the financial and transaction information necessary to provide you with the Services, including account numbers, payment card expiration date, payment card identification, verification numbers, and transaction and payment history.
If you provide feedback or contact us via email, we will collect your name and email address, as well as any other content included in the email, in order to send you a reply.




We also collect other types of personal information that you provide voluntarily, such as any information requested by us if you contact us via email regarding support for the Services.
(b) Personal Information Collected from Third Parties - We may collect certain information from identity verification services and consumer reporting agencies, including credit bureaus, in order to provide some of our Services.
(c) Personal Information Collected Via Technology - We and our service providers may automatically log information about you, your computer or mobile device, and your interaction over time with our Services, our communications, and other online services, such as:
device data, such as your computer or mobile device's operating system type and version, manufacturer and model, browser type, screen resolution, RAM and disk size, CPU usage, device type (example: phone, tablet), IP address, unique identifiers, language settings, mobile device carrier, radio/network information (example: Wi-Fi, LTE, 3G), and general location information such as city, state, or geographic area.
Online activity data, such as pages or screens you viewed, how long you spent on a page or screen, the website you visited before browsing to the Service, navigation paths between pages or screens, information about your activity on a page or screen, access times, and duration of access.
Cookies, which are text files that websites store on a visitor's device to uniquely identify the visitor's browser or to store information or settings in the browser for the purpose of helping you navigate between pages efficiently, remembering your preferences, enabling functionality, and helping us understand user activity and patterns.
Local storage technologies, like HTML5 and Flash, that provide cookie-equivalent functionality but can store larger amounts of data, including on your device outside of your browser in connection with specific applications.
Web beacons, also known as pixel tags or clear GIFs, which are used to demonstrate that a webpage or email was accessed or opened, or that certain content was viewed or clicked.
Location Information. If you have enabled location services on your phone and agree to the collection of your location when prompted by the Services, we will collect your location information when you use the Services; for example, to provide our fraud detection services. If you do not want us to collect this information, you may decline the collection of your location when prompted or adjust the location services settings on your device.
HOW WE USE YOUR INFORMATION COLLECTED IN THE APP
(a) General Use-In general, we use your personal information collected through your use of the Services to respond to your requests as submitted through the Services, to provide you the Services you request, and to help serve you better. We use your personal information, in connection with the App, in the following ways:
Facilitate the creation of, and secure and maintain your account;
Identify you as a legitimate user in our system;
Provide improved administration of the Services;
Provide the Services you request;
Improve the quality of experience when you interact with the Services;
Send you administrative email notifications, such as security or support and maintenance advisories; and
Send surveys, offers, and other promotional materials related to the Services.
(b) Compliance and protection - We may use your personal information to:
Comply with applicable laws, lawful requests and legal process, such as to respond to subpoenas or requests from government authorities;
Protect our, your or others' rights, privacy, safety or property (including by making and defending legal claims);
Audit our internal processes for compliance with legal and contractual requirements and internal policies;
Enforce the terms and conditions that govern the Service; and
Prevent, identify, investigate and deter fraudulent, harmful, unauthorized, unethical, or illegal activity, including cyberattacks and identity theft.
(c) Creation of Non-Identifiable Data - The App may create de-identified information records from personal information by excluding certain information (such as your name) that makes the information personally identifiable to you. We may use this information in a form that does not personally identify you to analyze request patterns and usage patterns to enhance our products and services. We reserve the right to use and disclose non-identifiable information to third parties at our discretion.
DISCLOSURE OF YOUR PERSONAL INFORMATION
We disclose your personal information collected through your use of the Services as described below.
(a) In Accordance with Our Other Privacy Notices - Other than as described in this Privacy Policy in connection with the App, this Privacy Policy does not apply to the processing of your information by us or third parties with whom we share information.
(b) Third Party Service Providers - We may share your personal information with third party or affiliated service providers that perform services for or on behalf of us in providing the App, for the purposes described in this Privacy Policy, including: to provide you with the Services; to conduct quality assurance testing; to facilitate the creation of accounts; to optimize the performance of the Services; to provide technical support; and/or to provide other services to the App.
(c) Authorities and Others - Regardless of any choices you make regarding your personal information, The App may disclose your personal information to law enforcement, government authorities, and private parties, for the compliance and protection services described above.
LINKS TO OTHER SITES
The App may contain links to third party websites. When you click on a link to any other website or location, you will leave the App and go to another site, and another entity may collect personal and/or anonymous information from you. The App's provision of a link to any other website or location is for your convenience and does not signify our endorsement of such other website or location or its contents. We have no control over, do not review, and cannot be responsible for, these outside websites or their content. Please be aware that the terms of this Privacy Policy do not apply to these outside websites. We encourage you to read the privacy policy of every website you visit.
YOUR CHOICES REGARDING YOUR INFORMATION
You have several choices regarding use of information on the Services.
(a) How We Respond to Do Not Track Signals - Some web browsers transmit "do not track" signals to the websites and other online services with which your web browser communicates. There is currently no standard that governs what, if anything, websites should do when they receive these signals. We currently do not act in response to these signals. If and when a standard is established, we may revise its policy on responding to these signals.
(b) Access, Update, or Correct Your Information - You can access, update, or correct your information by changing preferences in your account. For additional requests, please contact us.
(c) Opting Out of Email or SMS Communications - If you have signed-up to receive our email marketing communications, you can unsubscribe any time by clicking the "unsubscribe" link included at the bottom of the email or other electronic communication. Alternatively, you can opt out of receiving marketing communications by contacting us at the contact information under "Contact Us" below. If you provide your phone number through the Services, we may send you notifications by SMS, such as provide a fraud alert. You may opt out of SMS communications by unlinking your mobile phone number through the Services.
(d) Opting Out of Location Tracking - If you initially consented to the collection of geo-location information through the Services, you can subsequently stop the collection of this information at any time by changing the preferences on your mobile device. Please note, if you withdraw consent to our collection of location information, you may no longer be able to use some features of the App.
SAFEGUARDS AND RETENTION
We implement reasonable administrative, technical, and physical measures in an effort to safeguard the information in our custody and control against theft, loss and unauthorized access, use, modification, and disclosure. Nevertheless, transmission via the internet is not completely secure and we cannot guarantee the security of your information.
A NOTE ABOUT CHILDREN
The Services are not directed towards individuals under the age of 16, and we do not, through the App, intentionally gather personal information about visitors who are under the age of 16. If a child under 16 submits personal information to us through the App and we learn that the personal information is the information of a child under 16, we will attempt to delete the information as soon as possible.
PRIVACY POLICY UPDATES
This Privacy Policy is subject to occasional revision. We will notify you of any material changes in its collection, use, or disclosure of your personal information by posting a notice on the Services. Any material changes to this Privacy Policy will be effective thirty (30) calendar days following notice of the changes on the Services. These changes will be effective immediately for new users of the Services. If you object to any such changes, you must notify us prior to the effective date of such changes that you wish to deactivate your account. Continued use of the Services following notice of any such changes shall indicate your acknowledgement of such changes.
CONTACT US
If you have any questions or complaints about this Privacy Policy or The App's data collection or processing practices, or if you want to report any security violations to The App, please contact the Bank by email at:
customerservicecenter@greenfieldsavings.com
or by mail at:
Greenfield Savings Bank
400 Main Street
P.O. Box 1537
Greenfield, MA 01302