Online Banking
With 24/7 access to your accounts on a desktop or mobile device, GSB's online banking services allow you to bank securely at your convenience.

Online Banking & Bill Payment
Online Banking & Bill Payment
Online Banking and Bill Payment
GSB's Online Services bring the bank to you safely and securely anytime, anywhere. With a click of the mouse, you can check balances, transfer funds, view transactions, and pay bills. You can also:
Download information into Quicken® and other personal financial management software.
Create email or text alerts for incoming deposits, cleared checks, or balance changes.
Make person-to-person payments from your GSB checking account to anyone within the United States, no matter where they bank.
Send or receive money from an external account with External Transfers.


Ready to sign up? It is easy to do.


Questions about all of the options?
eStatements
Avoid mail fraud and receive your statements faster with eStatements at Greenfield Savings Bank.
Review current and past statements online (your records are archived for up to seven years), or download them for your own record-keeping.
Online banking customers can access eStatements by simply logging in and clicking on the eStatements link. Don't bank online? Access your eStatements from the portal on the Home Page of our website.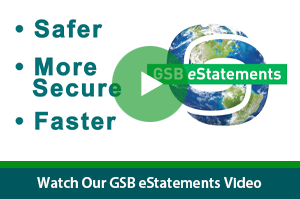 GSB Real Time Alerts
GSB Real Time Alerts
 will give you up-to-the-minute monitoring of your GSB accounts and you can set up alerts for more than forty different types of transactions and events including:
Security Alerts - Get alerts if someone is trying to access your online banking or if changes have been made to your user information.

Balance Alerts - Set up low balance alerts to avoid overdrafts and high balance alerts to learn when you have money available to transfer to another account.

Transaction Alerts - Learn when deposits, checks, or withdrawals post to your account.

Loan Alerts - Find out when a payment is due, past due, has been paid, or when loan activity occurs.

And more!
GSB Real Time Alerts can be sent to you by your choice of any combination of email, text secure message, or mobile push notifications.
Watch our video, below, for more information.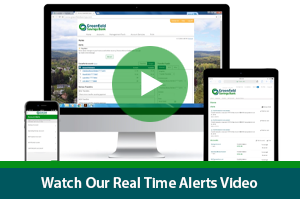 GSB CreditCenter
Get your Credit Score and Credit Report for FREE, right from GSB's online or mobile banking - no credit card required. Sign up for credit monitoring, get tips to improve your score, and get alerts any time there's a change to your credit score. All for free!
How to sign up for the free GSB CreditCenter
If you are a Non-GSB Customer:
Come in to any GSB office or click on Open an Account and follow directions to open an account. Once your new account has been funded, sign up for free GSB Online Banking and/or the Free GSB mobile App.  Then follow the directions to sign up for GSB CreditCenter.
If you're an existing GSB Customer with Online and/or Mobile Banking:
Log in to GSB Online Banking or your GSB Mobile App and follow directions to sign up for GSB CreditCenter.
If you are an existing GSB Customer without Online or Mobile Banking:
Click Sign up for Online Banking and/or download the GSB Mobile App and sign up for mobile banking.  Then follow directions to sign up for GSB CreditCenter.
 Watch Our Video, Below, for More Information