Business Online Banking
Whether you're looking for basic online services like balance inquiries and transfers or need more sophisticated tools like ACH Origination and Positive Pay, Greenfield Savings Bank has the online tools you need to manage your accounts 24/7.
Business Online Banking
Our Business Online system offers enhanced functionality for businesses wishing to originate ACH transactions, use Remote Deposit capture, or make Wire Transfers.
Account Management
Real-time account balances
Detailed transaction history
Place Stop Payments
View check images
View loan details

Export to Quicken™ and Quickbooks™, or use a .csv or .ofx file to download history
Funds Management Tools
Transfers
Real-time or scheduled account-to-account transfers

Loan payments & paydowns
Line of Credit disbursements
ACH Origination

Payroll
Corporate Payments & Disbursements (CCD)
Prearranged Payments & Disbursements (PPD)
Tax Payments
Wire Transfers*

Originate domestic & international outgoing wire transfers
Create templates for repetitive wires
Bill Payment
Use online system to send paper checks or electronic payments
Guaranteed delivery dates
Receive e-Bills
Set up recurring payments
Remote Deposit**
Save trips to the bank
Deposit checks using a desktop scanner
Positive Pay **

Powerful fraud prevention tool
Choose Check or ACH Positive Pay, or both

Multi-Factor Authentication & Security Token Access
Define user access levels
Create dual-control settings
GSB Real Time Alerts
GSB Real Time Alerts
 will give you up-to-the-minute monitoring of your GSB accounts and you can set up alerts for more than forty different types of transactions and events including:
Security Alerts - Get alerts if someone is trying to access your online banking or if changes have been made to your user information.

Balance Alerts - Set up low balance alerts to avoid overdrafts and high balance alerts to learn when you have money available to transfer to another account.

Transaction Alerts - Learn when deposits, checks, or withdrawals post to your account.

Loan Alerts - Find out when a payment is due, past due, has been paid, or when loan activity occurs.

And more!
GSB Real Time Alerts can be sent to you by your choice of any combination of email, text secure message, or mobile push notifications.
To set up Real Time Alerts, ask your Business Online Senior Administrator to enable your access.
Watch our video, below, to learn more about GSB Real Time Alerts.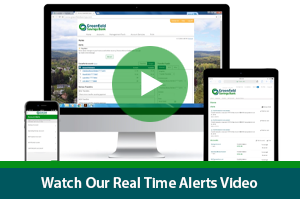 *Wire Transfer Fees May Apply
** Monthly Fees Apply to Remote Deposit and Positive Pay modules, ask us for more details.

Online Banking
Use our FREE Online Banking system to check your balance, transfer between accounts, or pay bills - simply add your business accounts to our personal online banking system.
eStatements
Save paper and time with GSB's eStatements.
 Avoid mail fraud and receive your statements faster with eStatements at Greenfield Savings Bank.
Review current and past statements online (your records are archived for up to seven years), or download them for your own record-keeping.
Online banking customers can access eStatements by simply logging in and clicking on the eStatements link. Don't bank online? Access your eStatements from the portal below or on the Home Page of our website.

Telephone Banking
Bank 24/7 from any touch-tone or mobile device, using GSB's automated telephone banking system.
Check balances
Review last 10 transactions
Transfer between accounts
Call (888) 324-3191 or (413) 774-1062 to bank by phone today.